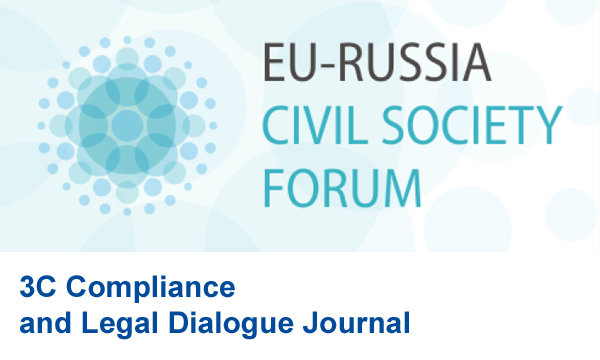 Ene 22, 2017
Artikel / Corporate Social Responsibility
3C Compliance and Legal Dialogue Journal
Our Partner Katharina Miller is member of the support group of the Legal Dialogue Journal. The EU-Russia Legal Dialogue programme is proud to present the first issue of the quarterly Legal Dialogue Journal.

After the big success of our publication last year ("Voices from Civil Society") it was our aim to create this year a platform for vivid dialogue about relevant legal issues for representatives of NGOs, lawyers, law students and interested general public, thus expanding the range of active participants and beneficiaries of the "EU-Russia Legal Dialogue" CSF programme.

Like the programme itself, the quarterly journal will cover a wide range of topics, using the different formats foreseen: analytical articles, background information digests, presentation of best practices, open discussions of current issues, practical advices and etc.  

In the first issue you will find information and reflections about the "Yarovaya Package" in Russia; Legalisaion of same-sex civil Unions in Italy; Constitutional crisis in Poland; Pro bono legal help for refugees in Romania, Poland and Russia; Advices for human rights activists facing trouble in their countries; and much more.
Of course, the substantive content of the journal will also depend on your communicated wishes and your active contributions. We invite you to send us topic proposals or concrete questions for discussion, announcements of interesting events or specific proposals of publications, as well as general ideas for further improvement of the journal.

We are open for your proposals and are looking forward to developing together a vivid, interesting and useful Legal Dialogue! We are open for your proposals and are looking forward to developing together a vivid, interesting and useful Legal Dialogue!

Please send us your topics, questions and material for publishing to: legal.dialogue@eu-russia-csf.org